A Century of Comics
The newspaper strip years
3 to 6 June 2010
Opening hours: Thu noon–7 p.m., Fri/Sat 10 a.m.–7 p.m., Sun 10 a.m.–6 p.m.

Kongresszentrum Heinrich-Lades-Halle, Großer Saal
The artform of comics – developed around the same time as film – instantly enjoyed great popularity at the end of the nineteenth century. As large and colourful supple-ments to American Sunday newspapers comics were aimed at the millions of immi-grants who were still unsure of the language and customs of the New World. Ex-cluded as they were from bourgeois cultural life, comics offered the new citizens their own cultural communicative platform that today seems visionary in its symbiotic com-bination of text and imagery considering the development of the 20th century into a "media century". The exhibition by Alexander Braun that will be shown during the 14th Erlangen Inter-national Comic Salon after stops in the Museum Huelsmann in Bielefeld, the RWE-Tower in Dortmund and the Gallery of the City of Remscheid documents these excit-ing years using the printed original newspapers as well as original drawings by impor-tant artists from the last 100 years: Lyonel Feininger, Winsor McCay, Rudolph Dirks, Harold Knerr, Bud Fisher, George Herriman, George McManus, Chester Gould, Hal Foster, Burne Hogarth, Milton Caniff, Chic Young, Walt Kelly, Tony Millionaire, Tomas Bunk and many others.
An exhibition by Alexander Braun for the 14th Erlangen International Comic Salon.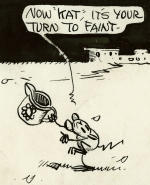 A Century of Comics
The newspaper strip years

Drawn from Life
German newspaper strips today

Six Artists - One Author
Graphic Novels by Peer Meter, drawn by Barbara Yelin, Isabel Kreitz, David von Bassewitz, Gerda Raidt, Nicola Maier-Reimer and Julia Briemle

Cosmos and Comic
The universal Mythologist Jens Harder

Mahlermuseum
The minimalist variations of Nicolas Mahler

Everything is going to be ok again!
Comic as Concept - Oliver Grajewski is Tigerboy

Aspects of the Everyday
The artist and scenarist Pascal Rabaté

Mecki
60 years of comic Adventures

Happy Birtday, Charlie Brown!
60 years of Peanuts

Draw, stranger!
The continuing faszination of the western

In Nature's great breath
Derib's and Job's magical western series "Yakari"

Eroticism and Adventures
New work by Milo Manara

And the word became image
About comics and religion

Grenzgebiete - drüben!
Childhood memories between East and West Germany

Otherness in text and image
University of Erlangen-Nürnberg und the Offenbach Academy of Art and Design

Duckomenta
The ducks are back!

Manga as
Graduate Students of Kyoto Seika University introduce themselves

Jakob - a comic fairy tale
A graduate project at the Film Academy Baden-Würtemberg

Soul strips
Autobiographical Comic Blogs from Germany

cinearte - cinecomic
Stories in Images

Artistic comics and cartoons
The Comic Saloon at the Kunstmuseum Erlangen

The last living person ... Tomorrow!
24th and 25th Comic Artists Seminar 2009 and 2010

The Last Match
The smallest big exhibition in the world

The wooden house
The dream of having your own horse

Tonto – Granulat 6/10
Shop window presentation

World Wide Fund for Nature WWF
No deforestation for children's books!

Comic Café – Comicaze
The best work by Munich's comic artists - Live and in colour!

toonsUp presents:
Let's Play!

Nothing for Cyclopes
3D cartoons by Anjo Haase